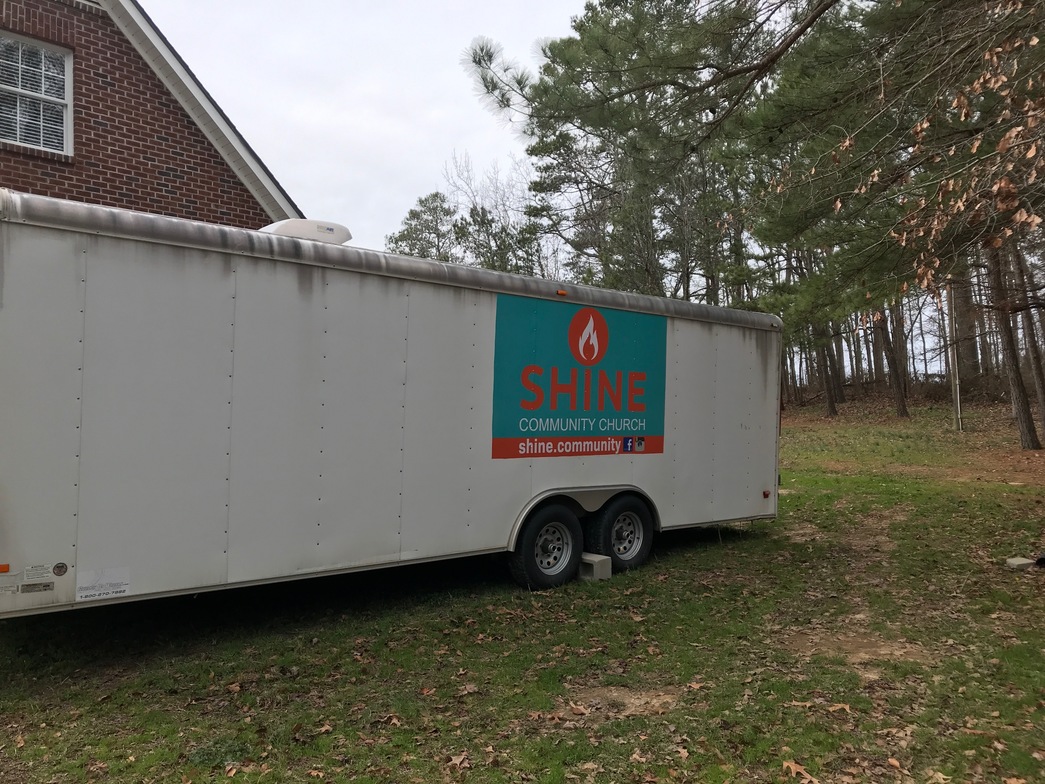 Last week Shine Community Church launched in Clayton, NC. 368 people attended their first service and three people professed faith in Jesus Christ for the first time - their eternal destinies changed forever. That is awesome and a great encouragement for what God is doing to bring people to Him all over the world.
Yes - that is our old trailer with their logo on it. (I wish now I had taken a pressure washer to it before we gave it to them, but it works.) It's a good story. When we realized that we would no longer need our trailer once we moved into our new facility, I contacted several groups to see if they knew of anyone who might need it. One of the groups I contacted - Church on Wheels - the one who sold us the trailer in the first place - responded back with a possible new home for our trailer.
They contacted one of their clients - Jason Boulet who was about to place an order for a brand new trailer - and told him about our trailer. Church on Wheels gave up a guaranteed sale in order to help out a new church save a lot of money. That says a lot about Church on Wheels in Charlotte and their kingdom mindedness.
Jason contacted us and we made arrangements for him to pick it up once we were done with it. Freely we were given from many donors when we launched and so freely we gave.
Jason has a great story. Raised in Greenville, NC. He went to ECU and then worked in the business world for a few years before answering the call to ministry, first as a student pastor and now a church planter. His story and mine are similar in many ways. He has a heart for Christ and for seeing people come to know Jesus and become followers of Jesus. He will be a great pastor and I believe God will do amazing things through Jason and Shine Community.
What a privilege it is to be on mission with Jesus as He seeks the lost. We are a small part of His kingdom but I wouldn't trade that for anything.
Please continue to pray for Shine Community Church, Jason Boulet and his family and for the people of Clayton, NC to know the only true God and Jesus Christ whom He sent.
A church on mission - actually 2 churches on mission along with 100,000's around the world fulfilling God's great commission to reach a dying world.