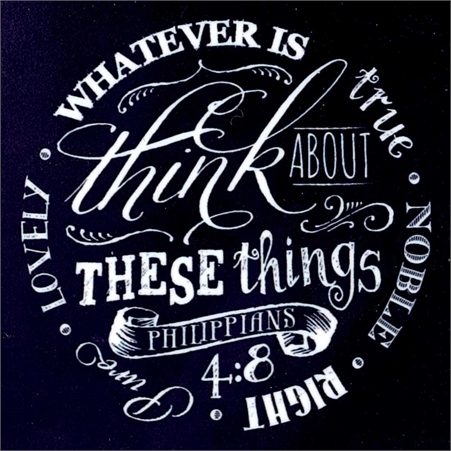 Finally, brothers and sisters, whatever is true, whatever is noble, whatever is right, whatever is pure, whatever is lovely, whatever is admirable-if anything is excellent or praiseworthy-think about such things.

- Philippians 4:8

I ended up running an experiment on myself that I didn't expect. Last week I was sick with whatever that thing was that was going around. It lasted a couple of days - fever, chills, cough, achy joints, congestion, etc. It wasn't a lot of fun but it wasn't awful either.

What got me thinking though was that during this time my soul wasn't at rest - my mind was anxious, restless, agitated, unclear - just a mess. I found myself watching a lot of TV during those days. It started with ESPN & HGTV but since there was a lot of newsworthy events I ended up watching the news. Big mistake. It may have helped pass the time but it didn't help me really rest. It actually did the opposite.

I had just started a new habit that I had heard a Christian football player mention on the lead up to the Super Bowl. He explained how he had learned a life changing habit - to start and end each day with 5 minutes of gratitude to God. He thought through his day - the day ahead and the day that had just ended and he thanked God for every aspect. He said it helped him sleep better at night and it helped him relax, rest, recalibrate and simply enjoy life more.

After trying it, I found out he was right. It really did work. I was just getting into the habit and seeing it have a positive affect on me when I got sick. Soon, I had forgotten all about it and filled the time with TV. It didn't take much time to get off track - two days, two days to see my mind go in the wrong direction.

Has that happened to you? Ever found yourself losing track of your thoughts only to see them head toward negative, anxious, worried directions? Have you ever found your soul becoming restless because of where your mind was heading? Have you ever been discontent because you allowed your mind to drift?
God wants our best thoughts. His Word is clear - think on good things, noble things, pure things, lovely things. He calls us to think on heavenly things, godly things, things above, and to think on Jesus.
It seems like a simple thing and in some ways it is. Put your thoughts on Jesus and His kingdom and find rest for your soul.

Last week, I learned some valuable lessons. 1. Don't get sick. It's not good for you. 2. If you do get sick, don't watch the news. 3. Spend 5 minutes at the beginning and end of each day in gratitude. 4. Mind your thoughts 5. Rest in Jesus.

And that's what's on my mind today.